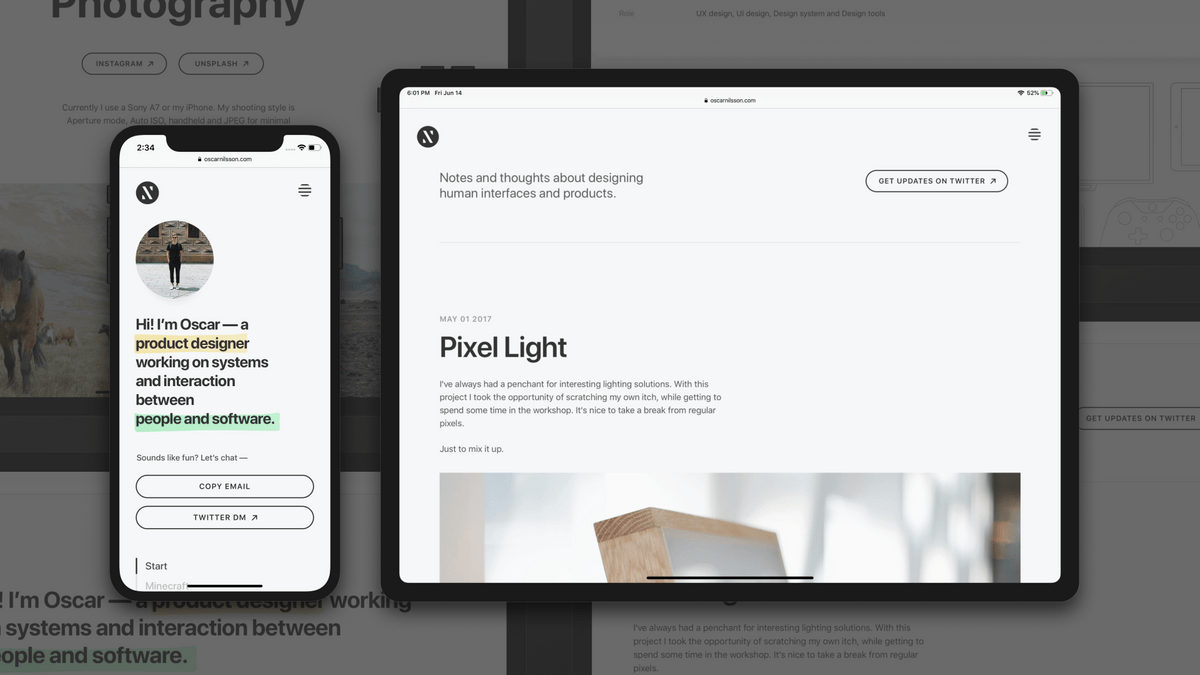 It's been two years since the I grew tired of my last website project. Lots have happened since, ranging from my thesis research to starting at Minecraft.
As a designer I tend to lean on understanding the material and engineering constraints I'm designing for. This is a double-edged sword as I think it can limit your creativity as a designer, but I've found it consistently useful. Given this, and the challenges we are facing in the design system team at Minecraft, the time was right to brush up on my understanding of how React apps are built in 2019.
I'm no expert, but it seems to me like the React ecosystem has been taking giant leaps since my last deep exposure to it in 2015, at BandPage. From new app environments (Next.js, Gatsby) to complete re-thinkings of how CSS styles can be managed with CSS-in-JS, that heavily influence how design system teams can operate. We also now have design tools such as Framer X, where designers benefit from knowing their way around React.
Adding to this, I also want to publish more of my thoughts and work. Speaking engagements have been a lovely outlet for this lately, but also happen to be very ephemeral and local. With what seems like a demise of Medium as a go-to platform for writing on the internet, perhaps now is the right time to invest in a writing platform managed by me?
Writing wise, at the very least I'll be starting out with some notes on the process of designing and building this website and writing platform — My thinking is that might be of interest for more folks in the community.
It'll likely take the form of several posts on here over the coming weeks, but the spoiler is that Gatsby (which this new site is based on) has been really fun to work with. I would recommend it to anyone who wants a blog or portfolio, and with some interest in learning React. Together with hosting on Netlify, I've never had an app setup go this smooth before.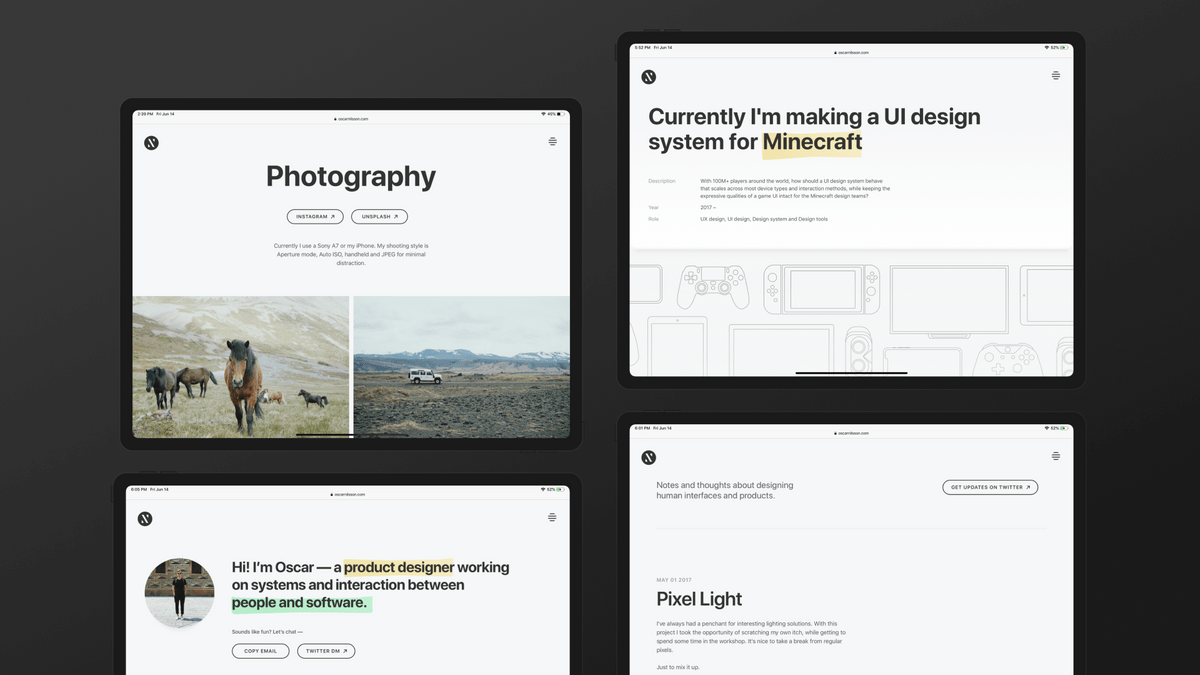 My goal is to try to provide some insight into the efforts needed to set something up (especially for someone without deep experience with coding or React), the benefits, drawbacks, and how I now think of self-maintained writing platforms looking ahead.
Beyond that, I hope this will turn into a blog about today's interfaces, product design, and thoughts on working as a designer.
We'll see how it goes.
Oscar
PS. There is no way of subscribing to these posts. While email newsletters are getting popular again, I'm still not convinced that's something I want to do here. I'll likely mention updates on Twitter and LinkedIn though, which also are decent places for discussion.